Whether you are looking for a window cleaner to come out to your location, or if you are a new business thinking about how to price your services, it just depends on the area that you are in. In large urban areas, the cost per window is going to be much higher than in rural locations simply because it is less costly to operate a business in a small town than in the city. Let's first look at how much you should pay for window cleaning services, and if you are a business, how much you should charge.
How Much Does It Cost To Have Your Windows Cleaned?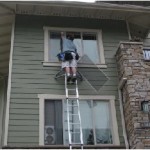 There are some companies that clean windows that will actually charge a very minimal amount. One of the reasons is that they use this in order to attract people to their service, and subsequently will offer other services where they can make additional money. It is common for some businesses to only charge as little as two dollars to five dollars a window, depending upon their size, which includes the inside and out. It also doesn't matter how many windowpanes are in the window, and they will sometimes offer you a flat fee for your entire house. You will want to compare the different companies that offer the service. It is important to use a service that is not only affordable but reputable. You can sometimes find reviews of the different companies in your area on the Internet, leading you to the best ones to choose.
How Much Should You Charge For Window Cleaning?
Thinking from the perspective of an actual business, your ability to clean windows is actually a powerful tool to help you generate regular clients. You may want to start with just a couple dollars for each window, and this is actually a reasonable rate for a new business simply because it will only take you a few minutes for each one. The low price that you use for window cleaning will attract customers that may otherwise have never used your services. Some have gone down to a single dollar for a window when they are in a large urban area trying to compete against larger companies. Always remember that window cleaning is a front end product, one that you use to attract customers. It is on the backend where you are going to make all of your money. This could be for cleaning the entire home, or offices that the homeowner may have for their business, helping you to generate thousands of dollars every year from each new customer.
In conclusion, if you are looking for a window cleaner, it is so important that you use a business that has a strong reputation in the community for providing quality service. However, always consider using a newer company, one that is charging excessively low rates for their service as this will allow you to get a great deal. From the perspective of the business owner, it is this same thinking that you will want to use to your advantage. By simply using window cleaning as a way to connect with people in the community, providing them with a good service for a very affordable rate, you can end up with long-term customers that may help you generate tens of thousands of dollars over the lifetime of your relationship with this individual or their company.