TransparentZ Moss Treatment Services
How moss spreads and is hazardous to your home: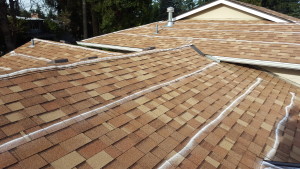 Here in the Pacific Northwest we recommend a dry moss application once a year to extend the life of your roof. Even new roofs benefit from having an application as the Pacific Northwest Moss never sleeps and is always advancing from roof to roof, neighbor to neighbor.
If you let it get too far you may wind up needing someone to remove it which to do it correctly is very costly in that you should have it scraped off the edge of the shingle. Pressure Washing will take years off the life of the roof as well as using a stiff broom which is why maintenance with a dry moss application is the smart way to go.
Before you hire a professional…
Many service providers that are applying a dry moss applications on the roofs around here, (and maybe even yours) are throwing down zinc based blends in amounts that are terrible for the environment. I remember just recently while trying to speak to a local competitor about what we at TransparentZ discovered about this newer product. They said basically, that they get a zinc based application from China SO cheap that it isn't even worth considering something made here in the state.
Zinc is potentially toxic to fish and other aquatic life. If you have used a zinc based product, take precautions to ensure that roof runoff doesn't flow directly into storm drains, streams, or other bodies of water. If you collect water from your roof in rain barrels, you may want to avoid using the water for your vegetable garden.
Our Signature Dry Moss Treatment Application
We are very happy to share that the dry moss application our customers get on their roofs is a custom blend, (being manufactured and sold in our area) and it has NO HEAVY METALS. It looks virtually the same and can take a little longer for moisture, (rain) to disperse the application over the roof but it is a superior product to be sure.
And that is what sets our business apart from others. We truly enjoy our environment and wish for future generations to enjoy it as well. We are very content to keep our ears and wallets open for better solutions in our desire to put the environment first.
*WE DO NOT OFFER MOSS REMOVAL*
Get a Free Estimate
Let us come and take a look at your roof to see if it's a candidate to be serviced by us. If it is we will do a blow the debris off your roof and treat it in a way that brings peace of mind not only to keep the moss off but in protecting your environment and keeping you safely on the ground while we take the risk up on the roof.
Our Happy Client Testimonials!