We love getting your windows clean and are always seeking professional tools and techniques to achieve this for you. Here is how we do it.
How We Clean Your Windows
For Indoor Window Cleaning we use a hybrid of traditional and non-traditional techniques.
For the indoor windows we can reach by hand we do the traditional squeegee method, (using a solution that is completely safe around children and animals). With this method we first wet and scrub your window and then dry it with a squeegee followed up with a detailing using a surgical towel to leave you withnice clean window.
For those windows or skylights out of reach for the traditional method we use an indoor water fed pole. This embraces newer window cleaning technology that consists of pads that are sprayed with DE-Ionized Water (or DI Water) which are then used to scrub the window. This DI Water/pad combo will then lift the dirt off your window and onto the pad leaving your window clean and clear.
Some competitors I know prefer to do traditional pole work for windows or skylights out of reach because they think it is faster but even if that were the case we still prefer the indoor water fed pole method because with it, you don't have to worry about the dirty water from your window winding up on your sills or on the walls leading up to a skylight. In fact It was a scenario just like this this from a local window cleaner using a pole that led me into this business.
In the event that we have to be "nose to glass" due to the Indoor Water Fed Pole not being able to work (like say french panes located many feet off the ground) we will bring in our stack ladder pieces and assemble them at the location of the work. This gives added peace of mind in that we are not traipsing through your house with long extension ladders that increase the possibility of things getting damaged inside your home.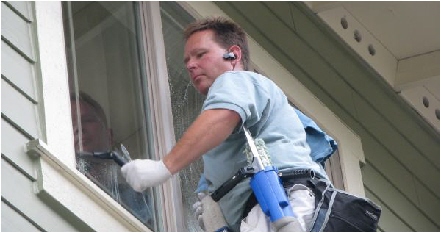 Get A Free Estimate!
Our Exterior Window Cleaning Method
For the outside of your home we will most likely use our Water Fed Pole system. In this process we take water from your tap and run it through a charcoal and sediment filter and then through a bed of resin, (which we maintain to keep the Total Dissolved Solids at an acceptable level for window cleaning.). The DI Water then travels to a window cleaning brush where it works in tandem with the brush to agitate and rinse the dirt off your windows leaving them as transparent as they could possibly be.
A Spot-Free Shine
Don't worry about the water that is left on the window after we rinse it because when it dries your window will be as clean AND clear as it could possibly be. And with just using water and a brush! It doesn't get any safer for the environment than that…
We have spent many years learning and refining what tools to use and when to use them to make sure that our interaction with your windows is as safe for you and us as it can possibly be. Just fill out the Contact page and we will start the process of getting you clean windows that you can have peace of mind about.
Our Happy Client Testimonials!